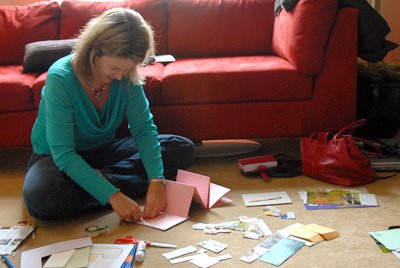 It's hard to believe that we're already in the 4th quarter of the year!  Are you and your business ready for 2010? Get a head start at the Right-Brain Business Plan Workshop on Sunday, November 15th in Oakland from 10am-4:30pm.
At this fun and engaging workshop you'll:
Clarify your business vision
Paint the picture of your business landscape
Create your marketing plan
Develop your financial plan
Identify the action steps needed to bring your plan to life
Craft a visual business plan for your entrepreneurial success
This workshop is perfect for you if:
You're a creative entrepreneur, artist, health and wellness professional, educator, coach, designer, freelancer, writer, photographer, non-profit leader or all-around creative soul wanting to make a positive impact with your entrepreneurial endeavors
You hate the idea of writing a business plan, but you know you need one
Numbers numb you out
What past participants had to say:
"Your cheerful, optimistic and generous attitude really lifted my spirits and got me going into action mode. I felt I gained so much practical information as well as inspiration from the course. Having a visual reminder of my goals is really helping to keep me focused on achieving my goals for the year!" — Michelle Casey, Professional Artist
"The workshop presented a fabulous tool for accessing the non-linear wisdom and creativity that only your right brain has, and using this brilliance to fuel your entrepreneurial aspirations. If your business needs some creative fire, check it out!" — Laura Parker, MFT, Creativity-Centered Therapy and Coaching (her Right-Brain Business Plan is in the photo below)

Find out more and register here (Early-bird special ends on November 1st).
While you're there, check out the Right-Brain Business Plan site's fun new facelift and the latest Right-Brain Business Plan spotlight featuring Danielle Grinnen of Deliante Designs.